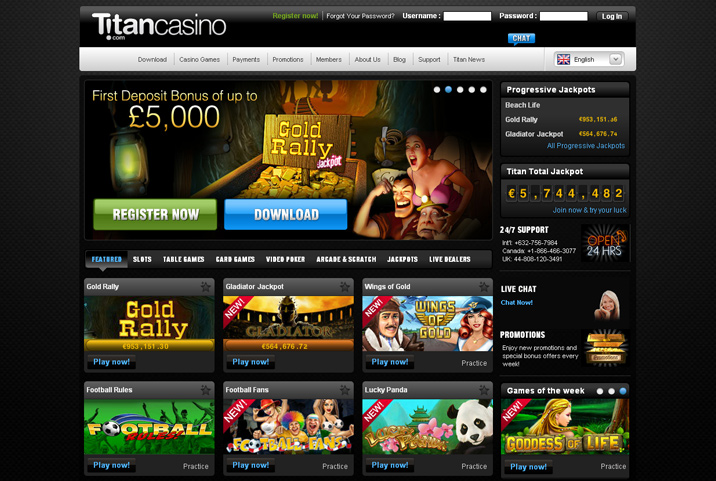 Titan casino has been a popular fixture in the online gaming industry since 2009. Offering up a number of the most popular casino games to players in Romania and around the world, Titan Casino is a good place to experience thrilling online casino games.
It's all about the Games
The most compelling aspect of any casino will always be the games that they offer. Titan Casino caters to all of the current trends, and you can near as much guarantee that you'll find what you're looking for on their site.
Titan claims to be offering over 400 games from their website, and as you browse through their selection you will find that they're not exaggerating. The catch is that most of the numbers are made up from variations on popular games, with Titan incorporating different themes or rule sets. At the end of the day this is not a problem. You will find that all of the classics are available, and it's nice to switch up the scenery every so often if you're only playing a few of your favorite casino games.
Titan Casino's core games are made up from Slots, Roulette, Card Games, Video Poker, Arcade and Scratch Ticket games, and there are even live dealer games. Whether you're looking for a game of Craps, a few rounds of Blackjack, a spin of the wheel on Roulette, or even a quick round of themed Slots, you will certainly find something to keep you entertained. There are even popular licensed games like Marvel Roulette.
Titan Casino licenses games from Playtech, a leading casino software developer. There are two benefits to this. The first is that the interface and even the themes of many of the games will feel familiar to regular online casino players, and the second is that you can be sure the games are fair and backed by a reputable developer.
The overall feel of the site is modern and easy to navigate, so you won't have problems finding the games you're looking for, or even discovering new ones that you hadn't previously considered.
Casino Games on the Go
The beauty of an online casino is that you can play almost anywhere, and Titan Casino makes this even easier with their mobile friendly site for smartphones and tablets. Not all of the games are offered here, but there's a nice selection to keep you occupied when you're away from your computer.
Customer Experience
Customer service and overall customer experience is often what makes or breaks a casino. Titan Casino offers games in droves, but there are some complaints to be had about how they operate their service overall.
Getting a hold of the support team is possible (all though not always prompt), because they operate a 24/7 helpdesk to serve their customers around the world. Banking is also no problem, with the ability to use a credit card, direct wire transfers, and a number of the leading e-wallet solutions.
The problems that you might have are in regards to the payouts. There is a limit of €9,990 that can be withdrawn from your account each month. This means that if you've won a large jackpot, you'll be waiting a long time to claim all of your winnings. This is obviously a technique to maintain gaming on the site, but it's one that not all users will be happy to accept.
There have also been instances in the past where Titan Casino was found to be overly pushy sending advertising through user emails, and adding promotions to accounts with no opt-in process. All of their practices are legal and agreed upon in their terms and conditions, but again, some users could find some of the advertising and aggressive promotions to be disagreeable.
Overall Thoughts
Titan Casino is in no way a bad site to choose for your online gambling. While they aren't perfect in every area, they do offer legitimate winnings, a near endless selection of games, and an intuitive and visually pleasing interface.
If you're willing to deal with the monthly withdrawal restrictions and the sometimes aggressive marketing, Titan Casino could offer you hours of thrills and excitement in all of the world's leading online casino games.