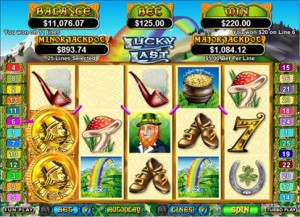 The Luck of the Irish can be with you as you play Lucky Last! This slot machine game is action packed and offers plenty of fun. The exciting lucky charms and wealth symbols that you see as you spin the reels make it a game you will enjoy playing. The pipe and golden shoes of the leprechaun are among the favorite symbols players like. Of course, this game wouldn't be complete without the rainbow and the pot of gold!
As you play Lucky Last, you will notice 7's come up frequently. You will also notice they are offered in three different colors. The same is true for the horseshoe and the toadstool. When you have all of the same color, you get a higher payout.
The Gold Coin is a wild symbol for Lucky Last. There is an image of a shamrock on one side and of a leprechaun on the other. The shamrock is a scatter symbol and you will earn free spins. The leprechaun increases the maximum payout for any pay line to 5,000 coins. Should you get free spins, there as about a 50% chance it will be triggered again during the first set of spins.
If the Gold Coin is on the leprechaun side, you get a double payout of any types of combinations in your pay line. If more than one pay line has a Gold Coin at once, then that can substantially increase your overall payout. It does matter though if it falls on a pay line you have wagered on or not. If it falls on one you didn't wager on, there is no payout for it.
The animation delivered with Lucky Last is considered to be one of the best for slot machine games. The most exciting time you will see those animations is during a payout. For example, the Gold Coin will get larger and it will turn to offer a 3-D effect. The shamrock will float and the leaves will spread to make a parachute. These fun effects don't last long so they aren't disruptive to the flow of the game.
While there isn't any background music as you play Lucky Last, there is music played during these great animations that accompany the payouts. Should you win with any other combinations of symbols, they will flash and you will get your payout. Then the game playing will resume back to normal.
The player can wager up to 125 total credits per game. There are 25 pay lines offered as you play. Many of the high rollers like the ability to play large number of credits at once so that makes this slot machine game one of the favorites on their list.
Lucky Last features two random progressive jackpots. These are quite enticing for those that would like to one day find that pot of gold at the end of the rainbow! There is no better way to do so than with an Irish themed slot machine game. The fixed jackpot amounts for this game is also very high compared to others.