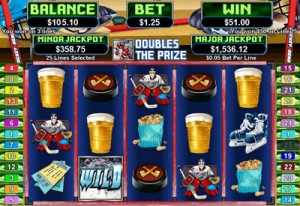 One of the lucrative slot machine games that offers real time gaming is Hockey Hero. As the name suggests, it offers an ice hockey theme. The atmosphere it is able to replicate is very accurate when compared to actual games. A great deal of planning and detail went into creating this video slot game.
The great symbols of this game really allow it to stand out. The goalkeeper is very well padded to defend that goal line. The referee is there, blowing his whistle. The Hockey Player is wild and the Penalty Box Player is the scatter symbol for free spins. In addition, there are numerous symbols within Hockey Hero that represent the game and ice skating in general. Some of them include skates, puck, and the mask.
When the Hockey Player or the Penalty Box Player is on a pay line, animation occurs. They are some of the best animations you will find with this type of video slot gaming. The Hockey Player will forcefully hit the puck and it looks like the screen has been broken as a result. Then the world Wild appears at the end. You can hear the crowd cheering and clapping in the background.
With the Penalty Box Player, you can hear him banging and grunting in that box. He is very mad that he has to spend time in there. It is very entertaining to watch his animation! Other than during these animations there isn't any background music to Hockey Hero. The exception is a few of the winning combinations do have sounds that signal a win to the player.
The Hockey Player can stand in for any given symbol on the game since it is wild. When it is in place, the payout can be much higher than what the symbol it offered would have paid. The payout is going to be at least 2x that original amount.
The Penalty Box Player offers free spins. The number of free spins can vary, but it can be up to 18. During the free spins, it is possible to gather the symbols for additional free spins that will be added on to the end of what you have already accumulated.
There are two progressive jackpots offered with Hockey Hero. One of them is considered Major and the other is considered Minor. It is believed this language was selected due to their being major and minor league teams that play hockey.
There are 25 pay lines that can be wagered on with Hockey Hero. There are flexible coin denominations that can be selected for game playing. Therefore, this game can cater both to low wagers and those that would like to be high rollers.
This is an exciting video slot game that has excellent graphics and animation. It is one that attracts a variety of sports fans. Even if you aren't focused on hockey, you can't help but be impressed by this particular game. The payouts are generous too and that is certainly appealing.