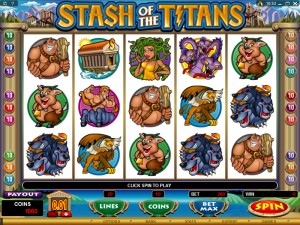 Experience the excitement and wonder of Greek Mythology in a classic online slot game! Stash of the Titans combines your favorite characters from ancient myths into a fast paced slot machine. Here, face ancient evil like Medusa and heroes like Perseus are featured in the game. All characters are a caricature version of themselves.
Players spin the reels and attempt to match the icon tiles. Each symbol is fully animated to add to the fun of the game. For example, Zeus transforms himself in a pillar of gold. Medusa does a flirty stance and blows a kiss at the screen. Perseus flies high in the sky on Pegasus. The Minotaur snorts through his nostrils and Cerberus snaps his jaws in rage.
Betting Options
Stash of the Titans is designed to appeal to all players. Players can pet as low as .01 to .20 per line, with up to 10 coins being placed on a single line. Once bets are placed, players spin the reels and enjoy the thrill of winning with their favorite characters from Greek Mythology.
Winnings
Unlike other online slots, Stash of the Titans is played slightly differently. The highest jackpot is for Perseus who awards 500 coins. Next, is the treasure chest symbol that pays out 400 coins. This is followed by a combination of any of these two symbols on a pay line that awards 350 coins.
While the payouts appear low, there is a way to maximize 50,000 coins in a single spin. There are tiles that award two, three, four and five times the winnings available. These symbols multiply the payout that would normally be awarded. That means if you hit Perseus with a five times multiplier you'd win 2,500 coins. The maximum winnings possible being 50,000 coins from a single spin.
Medusa offers the scatter bonus in the game. Having her appear on screen is a stroke of good luck! Five of her on screen pays out 50 times the total amount of the bet. Three or more Medusa also provides free spins. These spins help to generate even more winnings. Which means players can walk away with an impressive sum of money.
Of course, other combinations also pay off a set amount, based on the casino's preset winnings. Just click on the payout information for the casino of your choice and begin experiencing the true excitement of Stash of the Titans.
What Is Hot?
Animation and Graphics
Wild Multipliers
Greek Mythology Theme
What Isn't Hot?
No Bonus Game on a Second Screen
No Progressive Jackpot
Easy to Learn, Fun to Play
It is important to note that Stash of the Titans is one of the easiest online casino games to master. There are no bonus games to figure out and winnings are by the books. After you determine the payout lines, you are set to have endless amounts of fun with your favorite Greek Gods.
Take the time to fire up and play one of the best online slot games available. Offered through the leading casinos, Stash of the Titans is one that you are destined to love.